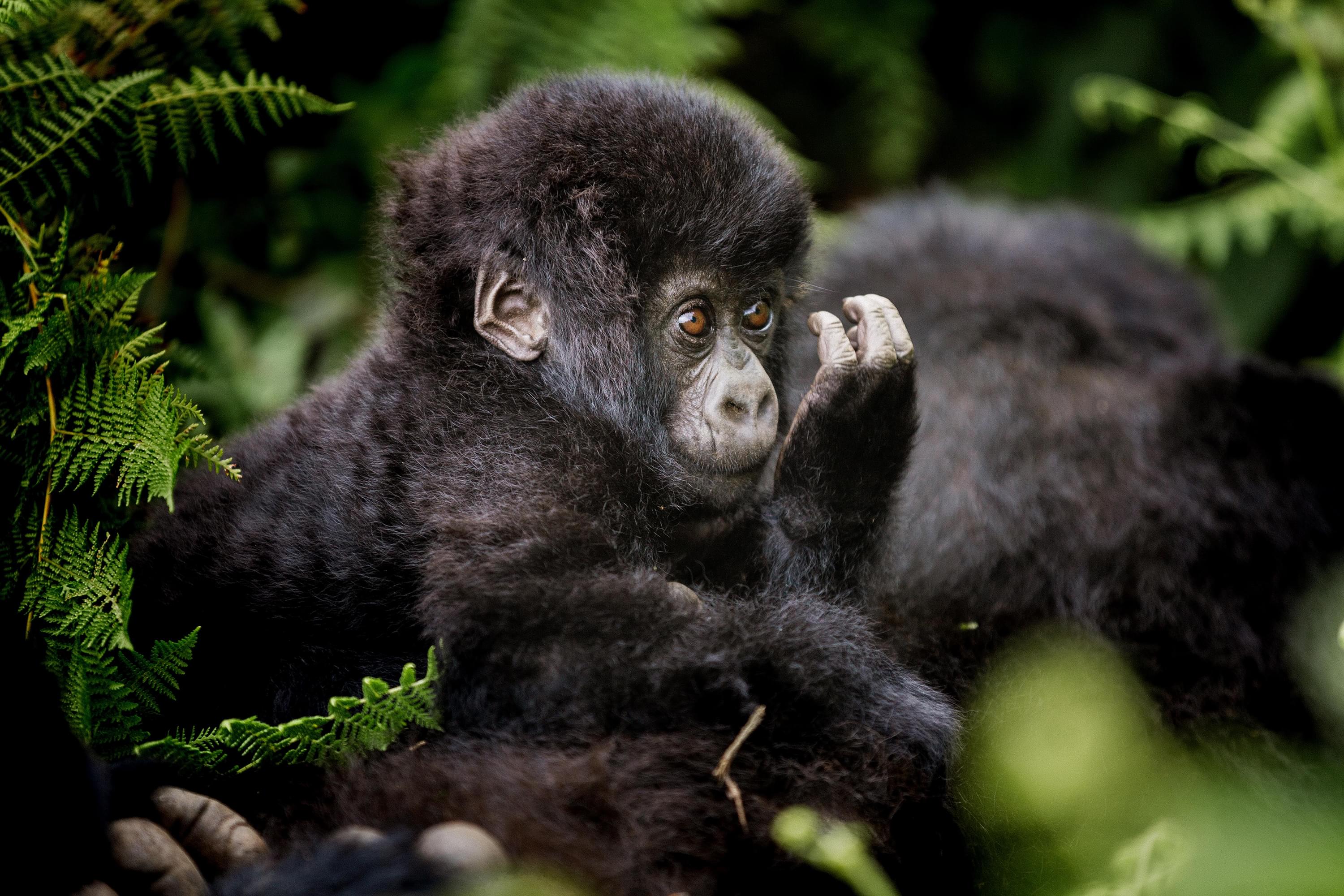 MEETING THE ANCESTORS
Gorillas and chimpanzees have long fascinated us.
Whether it came from the initial tales of Dian Fossey and her 'Gorillas In The Mist', or the many Disney and other movies featuring them as loveable characters, or perhaps it was when British national treasure David Attenborough found himself being groomed and jostled by a family of mountain gorillas. However it was sparked, the fact remains that the adventure of tracking and encountering our 'ancestors' in their remote African forest habitat, is often a long-held bucket list dream.
Gorilla trekking is certainly expensive. Permits, logistics and accommodations all add up to an intimidating price (we always give an indication of what things costs when we have our initial discussions with you). But it is absolutely worth every penny. We have sent and taken numerous families, couples and groups to encounter gorillas and chimpanzees and we never met anyone that wasn't deeply moved by the experience.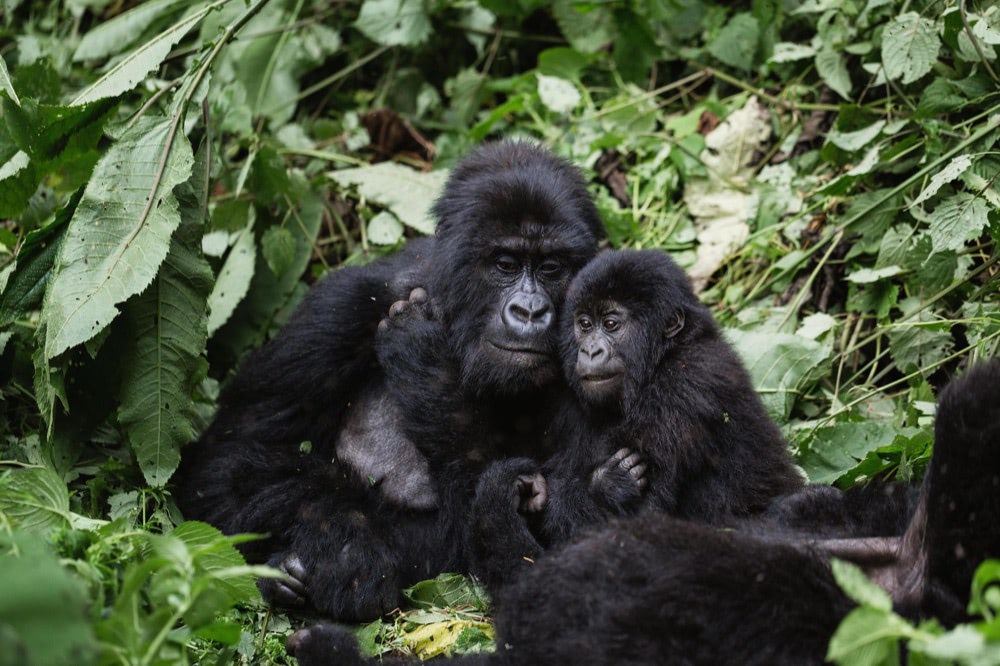 It's often hard to put into words why these creatures affect us in such profound ways. We think it's because in their behaviour, we see ourselves. There is nothing more delighting than seeing a gorilla dad lay on his back and 'fly' his young toddler like the aeroplanes above them. A game so familiar to each of us that we had always assumed it was human. Or a chimpanzee, so transfixed by the human dependency on 'props' like walking sticks and towels, that they make it their mission to get their hands on things to try on and try out, imitating how they see us behaving.
We know that such encounters will create memories for a lifetime. We are always especially excited to plan expeditions that visit habituated gorillas and chimps and to let our guests look into the eyes of these magnificent animals. It is remarkable how cognisant they are – they understand that we as their 'guests' are unthreatening and they have habituated to people. This means that encounters happen on their terms, often quite close and on the forest floor. They literally welcome us into their home.
However, catching up with gorillas versus chimpanzees is certainly very different! We tend to plan our gorilla encounters around midday, when they are relaxed and digesting their lunch peacefully. They are often in small groups of between 12 and 20, which means you get to experience being part of the family. Chimps on the other hand are a chaotic community rather than a family, sometimes of around 80. Like a large and rowdy group of friends they hang out, groom, chatter and are endlessly curious.
There are breath-taking stories of the courage and compassion of the mountain gorillas in the volcanoes of East-Central Africa. We are lucky to have friendships with so many of the researchers who dedicate their careers to observing the lives and behaviours of the gorillas, and who told us the story of the female gorilla and her young baby, separated from their group across a torrential river coursing down the side of a volcano. Gorillas don't like to get wet (they are often seen creating makeshift umbrellas to protect themselves from the rain) and the female had the added concern of her baby, still really too young to be put down. Clearly panicked at not being able to see where the lead male had crossed the water, she considered her surroundings, found a large stick, carefully placed her child down and gingerly went into the water, using the stick to test the depth in the centre. After reassuring herself that she could cross, she returned and gathered the baby, crossing the river safely with the child on her shoulders. A heart-in-mouth sight and a wonderful story of courage.
One of our favourite pastimes with our guests is to meet up for dinner with the vets from Gorilla Doctors, the initiative responsible for the research, protection and medical care of all the mountain gorillas. These vets make sure the gorillas aren't showing signs of respiratory illness and have no major injuries. When they do need to intervene it is no mean feat, and they have had to learn to 'negotiate' with a family of gorillas wanting to protect a member of their group and who often try to shield the victim from the help they need. The Gorilla Doctors are so generous with their time and stories, answering our questions and sharing their tales of their work. Often you could hear a pin drop in the stunned and captivated silence!
A favourite chimpanzee adventure was a trek up into the Afro-Montain Rainforest in search of a habituated community of chimpanzees named "M-Group". The expedition was part of a two-week story guiding a wonderful family from California through our very favourite parts of Kenya and Tanzania, alongside Matheus Nelson, a dear friend and our guide for four nights on the very western edge of Tanzania.
The M Group are part of a Japanese research project, founded in 1965 by Professor Toshisada Nishida, and have become so used to the presence of humans in close proximity that for the most part they ignore you entirely. But you have to find them first, and in this mountain forest that is not an easy feat. We have no news from the trackers, who have been up since sunrise monitoring the cacophony of chimpanzee calls. But as we consider breaking for a much-needed dip in the 'gin-clear' waters of Lake Tanganyika, Matheus jogs down to the beach and instructs us to put our hiking gear back on, as the trackers have heard a ruckus from up high and they want us to make a start straight away.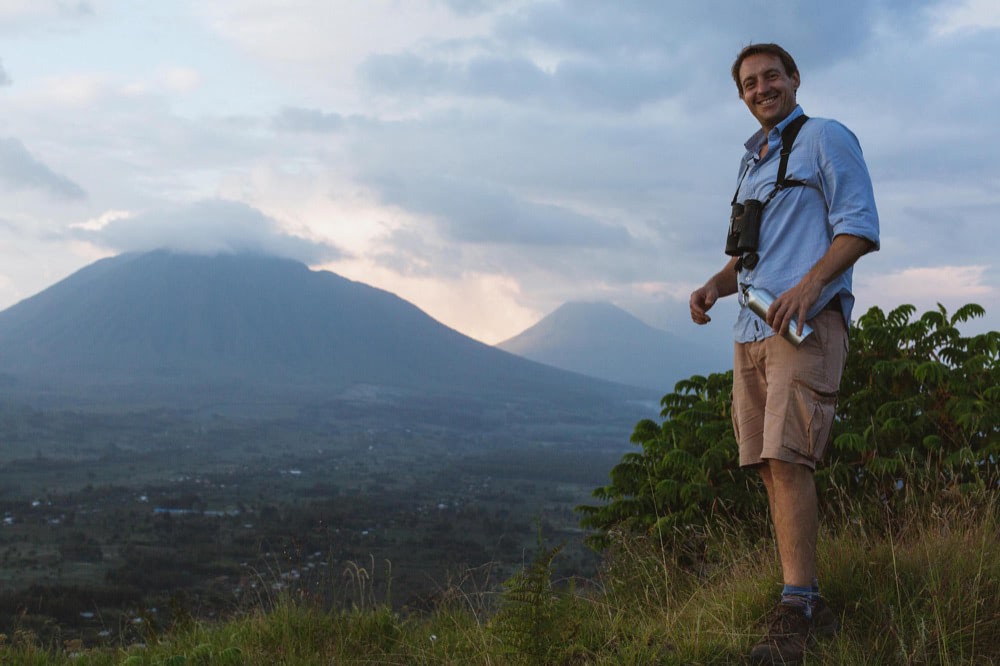 They have heard the chimps but they are mobile, so we are instructed to wait in situ until we have a better handle on their direction. It's an exercise in patience for us but a disciplined choice from a team who fiercely want us to make it. The methods the trackers employ not only in locating the M-Group but in getting us to them are incredibly dedicated and impressive. Over the next half an hour we are captivated with explanations of unique behaviours only observed within the Mahale Chimpanzees, leaf grooming as a way of flirting and joint hand grasp for mutual grooming, specific methods of fishing for cocktail ants and more. After another signal, we begin the serious part of our hike, around two and a half to three hours of trekking. It's hot, humid and in parts very tricky underfoot, but there is no murmur of anyone giving up on the goal.
Matheus leads us past a granite outcrop and we approach three adult male chimpanzees lazing around, lips smacking with pleasure as they groom one another. The intensity of being in such close proximity on the forest floor with these large, powerful males is palpable. The adrenaline courses and the fatigue of the hike disappears in an instant. We are about seven metres from them when they all suddenly look up and in the same direction.
Sure enough within seconds the serenity of the scene has vanished. The three boys, Orion, Catta and Emery are up and a wild, loud pant-hooting display sends them screeching through our midst. It's a sudden, chaotic moment of intimidating power that leaves hearts pounding. Within minutes Primus descends onto the pathway ahead of us and surges past in pursuit of a female in oestrus.
The next forty minutes are a blur of chimpanzees shifting around our position. Bonobo, the beautiful older male with his grey beard. Shy Ako with her nine-month-old infant gripping onto her belly and Asahi her older, more confident daughter trailing behind and inspecting our group. Pale faced Devolta who appeared in the community only last year and youngsters Kinoku and Ayu full of mischief and play. All in all we saw more than twenty individuals. Matheus knew each of them by name, could explain their current position and recount their history within the community. It was an extraordinary sighting, one of the most pleasurable and memorable wildlife encounters, and all the better for the strenuous efforts in arriving at that precise point in the forest on time.